Retread Tyres, New Tyres, Tyre Repairs,Fleet Solutions,Training
Anthem-Side-View-With-Flag
Eastern Cape South Africa
Who benefits from using retreaded tyres?
Nearly 100 percent of the world's airlines use retreaded tyres.

80% of the tyres used by the the commercial aviation industry are retreaded tyres.

Off-the-road, heavy duty vehicles use retreaded tyres.

Trucking fleets and overnight delivery vehicles use retreaded tyres.

Taxi fleets, race cars and industrial vehicles use retreaded tyres.

Retreaded tyres can give a similar mileage as comparable new tyres, at a lower cost-per-mile.

The cost of a retreaded tyre can be from 40% to 60% less than the cost of leading brand new tyres. This translates to millions of Rands in savings for consumers and trucking fleets every year.

Reteads are available with all types of tread patterns, including all-season and mud tread patterns off the road and long haul.

Retreading greatly reduces solid waste disposal problems. Every tyre retreaded is a tyre saved from the landfill. Retreading is truly recycling!

Energy savings. Retreading conserves hundreds of millions of gallons of oil every year.

Approximately 70% of the cost of a new tyre is in the tyre body. With proper maintenance, retreading permits the continued use of your important investment.

Retreaded tyres generally carry a warranty comparable to that of a new tyre
Care for the environment?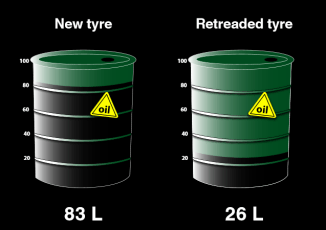 Care for the environment? Want to cut your tyre budget? Bandag helps you achieve both goals at the same time!
A Bandag retread only takes 26 litres of oil to produce, compared to 83 litres for a new tyre.
Shrink your tyre budget and help nature. Bandag retreads cost a fraction of new tyres and have far less impact on the environment.
Bandag means peace of mind. Out on the road, Bandag retreads equal the best new tyres in reliability, safety and performance!